Winding its way through more than two million acres of the River of No Return Wilderness in central Idaho is a river corridor of exceptional beauty, exciting whitewater, calm river pools, white sand beaches, and traces of American history unlike any other river in North America. Travelers on the Main Salmon River will find themselves immersed in a historical time machine with daily vignettes of America's past. Indian pictographs record the canyon's earliest travelers. Abandoned mining claims and homesteads evoke images of our westward migration. Grave markers and old log cabins remind us of the hardships and joys of our ancestors.

Come share the experience with guides who specialize in the human and natural history of the Salmon River Canyon. You'll be glad you came to the River of No Return.

We were recently featured in a video on Idaho Public Television. Click to View.

I recently published a book on the history of the five decade long effort to create Grand Teton National Park. You can read more about it here: Hardcover | Softcover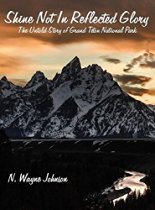 Read our River Newsletter!